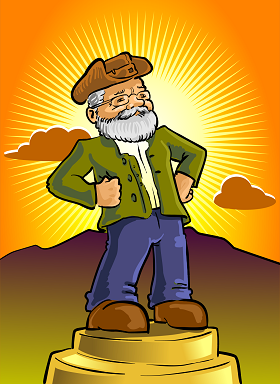 While most people think they are mending the world's problems by contemplating light bulbs or buying "organic", there are thousands of people making a more significant difference. And out of those thousands there are a few dozen trail blazers. And out of those few dozen there is one guy that is WAY out ahead of the pack. The mighty, the glorious, the amazing ... Sepp Holzer. Sepp Holzer was doing permaculture before he ever heard the word. To my knowledge, his farm is, by far, the best example of permaculture.
And I was fortunate to study under him for twelve days.
Update! In 2012 I spent another 11 days with Sepp. Over the next few days I will try to mash in some updated information. Several of us got together and recorded podcasts rich with information on what we heard and experienced.
After watching his videos about 18 times each, and then reshaping about 15 acres of land to be "Sepp Holzer Style" (terraces, ponds, plus lots of trees), it was bizarre to meet him and shake his hand! And his hands are freaky huge! My hands are freaky huge, but I'm a giant. His hands are bigger than mine.
So, just as the first evening is getting started, we ham it up for the camera a little:
Me and Sepp Holzer in Tacoma, Washington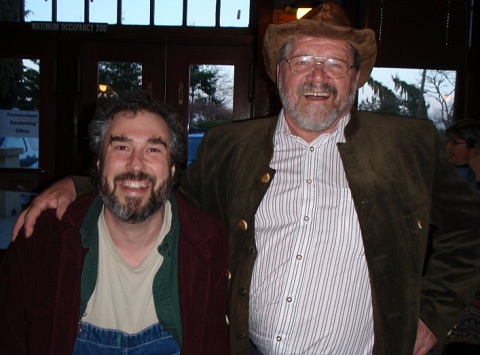 So I had my little digital camera with me. It has a video mode. I tried to record some stuff. The battery doesn't last very long when doing the video thing, but I think I lucked out and recorded the best parts. Afterwards, I got Sepp's permission to share this.
This first video goes into Sepp Holzer's earliest horticultural experiences as a boy genius! He covers the use of rocks on steep slopes and thorns to protect from deer. He also initiates and income model at the age of six!
This next video is about Sepp Holzer's first pond and aquaculture business. This is the one with the crocodiles! :)
This next video covers the key to sealing a pond. Other folks use pond liners and the like. Sepp Holzer can get damn near any soil to seal for a pond. I've built a few ponds and I've read a lot of books on sealing ponds, and I've had a lot of conversations with a lot of other pond builders. And Sepp Holzer is way, way, way out ahead of everybody else. And he makes it sound so simple.
Sepp Holzer grows citrus where it gets to 20 or 30 below zero! And he hints to some of his secrets here ...
After his presentation, he opened the floor to questions. And there are two important bits that I remember.